Comic Gallery 1
(1981) x 3 Comics
(1982 - 1983) Numbers 1 - 13
(1983 - 1985) Preview Issue and Numbers 1 - 52
| | | |
| --- | --- | --- |
| Back to Gallery Index | Back to Home Page | Navigation : |
UPDATE 3 : It appears I was right and there was an even earlier preview comic, also dated 1981 which appeared both as 'Disneyworld Magazine' and 'The Disney Magazine'. I do not own either of these but would like to...
Many thanks to Steven Spil for first image below and bringing it to my attention.
No 0

©1981

No 0

©1981
UPDATE 2 : I have further discovered through acquisition of the comic below that Disney Magazine appears to have been issued even earlier than originally thought as this edition is dated 1981 - It is un-numbered issue and states inside 'welcome to another edition of the Disney Magazine...' implying it is not the first!
©1981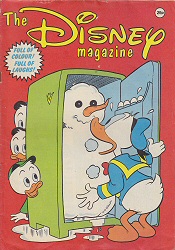 UPDATE 1 : The Disney Magazine was also published during 1982 by London Editions Magazines. This may have been a regional test-market issue as the comic series was certainly re-launched nationally from No 1 in March 1983. There were thirteen issues, the last of which was issued in the same month as the re-launch. I now have all thirteen editions in my collection. It is interesting to note that there was no issue dated April 1982.
No 1

February 1982

No 2

March 1982

No 3

May 1982

No 4

June 1982

No 5

July 1982

No 6

August 1982

No 7

September 1982

No 8

October 1982

No 9

November 1982
No 10

December 1982

No 11

January 1983

No 12

February 1983

No 13

March 1983
The Disney Magazine by London Editions Magazines was re-launched in March 1983 from No 1. The first 18 issues were calendar-monthly, then from No 19 onwards the magazine became fortnightly and remained so through to the final issue (No 166). No 52 was a Christmas bumper issue covering a period of three weeks.

Apparently, according to the Inducks website, Disney Magazine was split into a weekly and a monthly comic (article HERE). In some parts of the UK (or maybe only in certain shops), the original Disney Magazine continued with issue 8 onward, published monthly as before. In other parts of the UK, The Disney Magazine Weekly Edition Nos 8 to 23 were published. Roughly every fourth issue of the weekly was identical to the corresponding monthly...

The No 8 weekly was published the week after the No 7 monthly - There were TWO identical No 7s, one with the week ending date on (the first weekly edition) and one without (the monthly edition). Every three or four weeks, the weekly edition was identical to that month's monthly edition. The No 12 weekly was identical to the No 8 monthly, and subsequently, the No 16 weekly was identical to the No 9 monthly, the No 19 weekly was identical to the No 10 monthly and the No 23 weekly was identical to the No 11 monthly...


| | | | |
| --- | --- | --- | --- |
| | | | |
| No 7 Weekly | No 7 Monthly | No 12 Weekly | No 8 Monthly |
| | | | |
| | | | |
| No 16 Weekly | No 9 Monthly | No 19 Weekly | No 10 Monthly |
| | | | |
| | | | |
| | No 23 Weekly | No 11 Monthly | |
A valued contributor of mine (Alasdair Wilson) actually has these weekly edition comics and he has provided me with scans to show on my site. I have included these as a side gallery HERE. I have now acquired some of these editions.

Both the weekly and the monthly issues were priced at 27p, so maybe this strange split was an experiment to see if people were prepared to pay more for the comic more frequently. Indeed, a very few months later the monthly became fortnightly (with No 19) and the price increased to 30p per issue.

Further information and enlightenment gratefully received - please email me.
Preview Issue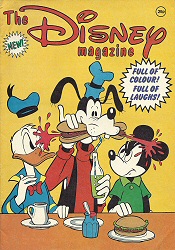 1983
No 1

March 1983

No 2

28 April 1983

No 3

26 May 1983

No 4

23 June 1983

No 5

21 July 1983

No 6

25 August 1983

No 7

22 September 1983

No 8

October 1983

No 9

November 1983

No 10

December 1983

No 11

January 1984

No 12

February 1984

No 13

March 1984

No 14

April 1984

No 15

May 1984

No 16

21 June 1984

No 17

19 July 1984

No 18

23 August 1984

No 19

6 September 1984

No 20

20 September 1984

No 21

4 October 1984

No 22

18 October 1984

No 23

1 November 1984

No 24

15 November 1984

No 25

29 November 1984

No 26

13 December 1984

No 27

27 December 1984

No 28

10 January 1985

No 29

24 January 1985

No 30

7 February 1985

No 31

21 February 1985

No 32

7 March 1985

No 33

21 March 1985

No 34

4 April 1985

No 35

18 April 1985

No 36

2 May 1985

No 37

16 May 1985

No 38

30 May 1985

No 39

13 June 1985

No 40

27 June 1985

No 41

11 July 1985

No 42

25 July 1985

No 43

8 August 1985

No 44

22 August 1985

No 45

5 September 1985

No 46

19 September 1985

No 47

3 October 1985

No 48

17 October 1985

No 49

31 October 1985

No 50

14 November 1985

No 51

28 November 1985

No 52

12 December 1985