| | |
| --- | --- |
| Back to Comic Strips Index | Back to Home Page |
The Belvedere comic strip was written by George Crenshaw. On at least two of his books he used the pen-name of Nat Greenwood, notably on his first book issued by Pocket Books in 1965 and also on an edition I do not have titled 'A Pooch Full of Tricks' published in 1975 - I have never seen a copy of this book.

= In My Collection /

= Not in My Collection
Pocket Books

1965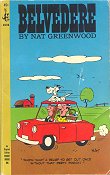 Belvedere


Tor Books
Apr 1982

& Friend

1982

All Dogs Must Be On a Leash

1982

The Odds Are...

Feb 1983

Now Just One Minute!
Apr 1984

(Belvedere 5)

Sep 1987

Hot Dog!

Nov 1988

Fine Jewelry
Jun 1989

Don't Push Your Luck!

Jan 1990

Flap Jacks

May 1991

Beware... Obedience School Drop-Out!

Jul 1991

Next Time, I'll Pack the Food!
Oct 1991

How Was That For a Karate Chop?

Dec 1991

I Said I'm Not Ready to Get Up Yet!

Mar 1992

Bone Pie
Tor Books - Two Books in One Series
Front

& Friend
Back

Beware... Obedience School Drop-Out!

Front

All Dogs Must Be On a Leash
Back

The Odds Are...

Front

Now Just One Minute!
Back

Where'd He Go?

Front

Flap Jacks
Back

Hot Dog!

Front

(Belvedere 5)
Back

?

Front

Don't Push Your Luck!
Back

Fine Jewelry
Johansen International Features

| | |
| --- | --- |
| 2015 Full of Mischief | 2016 Family-Friendly Funnies |