All Creatures Great and Small was a BBC TV drama series based on the books of the veterinary surgeon Alf Wight, who wrote under the pseudonym James Herriot (Full list of books at bottom of gallery). The series comprised of 90 episodes in two 'waves' of series, the first for three seasons from 1978 to 1980 and the second for four seasons from 1988 to 1990. In 2020 a new TV series was made by Channel 5 TV which has run for two seasons and two Christmas specials to date.

All Creatures Great and Small was also a film released in 1975 based on the first two James Herriot novels, "If Only They Could Talk" and "It Shouldn't Happen to a Vet". A sequel was released in 1976, somewhat confusingly titled "It Shouldn't Happen to a Vet", although it actually covers the two following novels, "Let Sleeping Vets Lie" and "Vet in Harness". In 2011 the BBC made a three-part series titled 'Young James Herriot'.

None of the original books were published with TV or film tie-in covers as far as I am aware, but there have been two books published as well as a companion book with covers from the new Channel 5 series and an annual for the original series. The gallery below only reflects books in my collection, and of course the set of seven are not TV covers. This set of books was published with cover illustrations by the artist Thelwell, renowned for cartoons in Punch Magazine and many of his own books. The original Pan Books set did not include the last 1992 title "Every Living Thing".



= In My Collection /

= Not in My Collection
Pan Books
Tie-in to the Channel 5 TV Series

2020

All Creatures Great and Small

2020

All Things Bright and Beautiful
Michael O'Mara Books Ltd
Hardback Companion Book

2021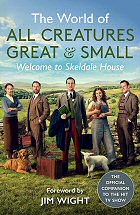 The World of All Creatures Great and Small
Welcome to Skeldale House
Pan Books
The Original Paperbacks

1973

If Only They Could Talk

1973

It Shouldn't Happen to a Vet

1974

Let Sleeping Vets Lie

1975

Vet in Harness
1977

Vets Might Fly

1978

Vet in a Spin

1982

The Lord God Made Them All
BBC Books

2012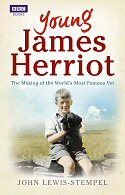 Young James Herriot

All Creatures Great and Small Annual Gallery

James Herriot's 'Vet' Books List
with original publication dates

The original UK series...
If Only They Could Talk (1970)
It Shouldn't Happen to a Vet (1972)
Let Sleeping Vets Lie (1973)
Vet in Harness (1974)
Vets Might Fly (1976)
Vet in a Spin (1977)
The Lord God Made Them All (1981)
Every Living Thing (1992)

Collected works from the original UK series...
In the United States, the first six books were considered too short to publish independently, so they were combined in pairs to form three omnibus volumes...

All Creatures Great and Small (1972) (incorporating "If Only They Could Talk", "It Shouldn't Happen to a Vet", and three chapters from "Let Sleeping Vets Lie")
All Things Bright and Beautiful (1974) (incorporating the majority of the chapters from "Let Sleeping Vets Lie" and "Vet in Harness")
All Things Wise and Wonderful (1977) (incorporating "Vets Might Fly" and "Vet in a Spin")
The Lord God Made Them All (1981)
The Best of James Herriot (1982)
James Herriot's Dog Stories (1986)
James Herriot's Cat Stories (1994)
James Herriot's Yorkshire Stories (1998)
James Herriot's Animal Stories (2015)

Books for children...

Blossom Comes Home (1969)
Moses the Kitten (1984)
Only One Woof (1985)
The Christmas Day Kitten (1986)
Bonny's Big Day (1987)
The Market Square Dog (1989)
Oscar, Cat-About-Town (1990)
Smudge, the Little Lost Lamb (1991)
James Herriot's Treasury for Children (1992)