Captain Pugwash was a BBC TV children's series first broadcast in a series of fifty-eight black & white episodes from 1957 to 1966, then as a colour series of thirty episodes from 1974 to 1975. A third (animated) series of twenty-six episodes was broadcast from 1997 to 1998. The original series was created by author John Ryan who wrote all the books (full list of titles at end of gallery), some as comic strip/cartoon books and some as novels. Later novelisations of the animated series were adapted by a number of authors.

This gallery is limited to the books in my collection only.

The series gained cult status based on rumours about the character names featured in the series (risqué maritime names such as Master Bates, Seaman Staines, and Roger the Cabin Boy). In fact, the crew of the famous Black Pig ship were Master Mate, Tom the Cabin Boy, and Pirates Barnabas and Willy (there were no characters with the designation of 'Seaman' in the show.) Series creator John Ryan successfully won retractions and settlements from the Sunday Correspondent and the Guardian after both newspapers claimed that the show's characters did indeed have smutty names, and that the BBC had taken it off the air as a result.
Collins Colour Cubs Books

1976

The Elephant

1976

The New Ship

1976

The Ruby

1976

The Treasure Chest
Collins Picture Lions Books

Bodley Head Books
Comic Strip Books

1977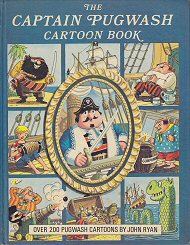 Picture Puffins

Puffin Picture Story Books

| | |
| --- | --- |
| 1995 | 1995 |
Puffin Picture Story Books
Cartoon Books

Puffin Books

1993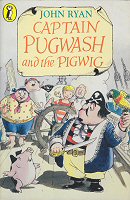 Puffin Books
Two Novels in One Paperback

1985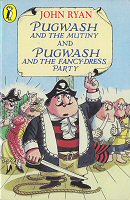 The Mutiny / The Fancy-Dress Party
Young Puffin Books (Read Alone)
Two Novels in One Paperback

1985

The Mutiny / The Fancy-Dress Party

1986

The Midnight Feast / The Wreckers
Frances Lincoln Books

Comic Strip Book

2012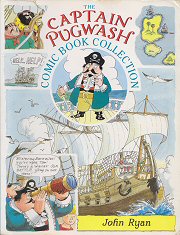 Gungarden Books

1994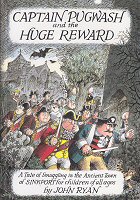 Red Fox Books
Novelizations of some of the 1997 series episodes

| | | | |
| --- | --- | --- | --- |
| 2000 | 2000 | 2000 | 2000 |
| 2000 | 2000 | 2000 | 2000 |
| | |
| --- | --- |
| 2000 | 2000 |
Puffin Books
Prequel Novels of Captain Pugwash's Ancestor

1995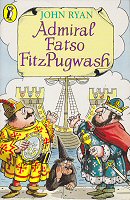 Captain Pugwash Annuals Gallery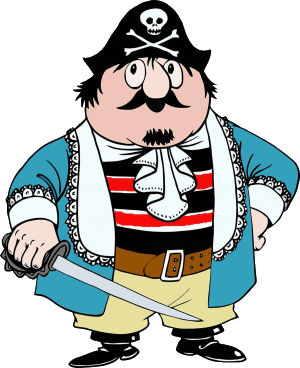 John Ryan's Pugwash Books List
with original publication dates

Captain Pugwash: A Pirate Story (1957)
Pugwash Aloft (1960)
Pugwash and the Ghost Ship (1962)
Pugwash in the Pacific (1963)
Pugwash and the Sea Monster (1976)
Pugwash and the Buried Treasure (1976)
Pugwash the Smuggler (1976)
Captain Pugwash and the Ruby (1976)
Captain Pugwash and the Treasure Chest (1976)
Captain Pugwash and the New Ship (1976)
Captain Pugwash and the Elephant (1976)
The Captain Pugwash Cartoon Book (1977)
Captain Pugwash and the Mutiny (1982)
Captain Pugwash and the Fancy Dress Party (1982)
Pugwash and the Wreckers (1984)
Pugwash and the Midnight Feast (1984)
Captain Pugwash in The Secret of the San Fiasco (1985)
Captain Pugwash in The Battle of Bunkum Bay (1985)
Captain Pugwash in The Quest of the Golden Handshake (1985)
Captain Pugwash and the Pigwig (1991)
Captain Pugwash and the Huge Reward (1991)
Captain Pugwash and the Birthday Party (1997)