Robin of Sherwood was another TV series about Robin Hood made by HTV that ran for three seasons between 1984 and 1986. The first two series starred Michael Praed as Robin of Loxley (aka Robin Hood) who was killed off at the end of season two (not the first time the main character of a TV series was killed off, but certainly the first time for Robin Hood). The third and final series starred Jason Connery as Robert of Huntingdon. There were only four novels published by Puffin Books, adapting all of seasons 1 and 2 and part of season 3, along with an omnibus edition in 1990 and two gamebooks in 1987. In 2014 Miwk Publishing issued two reference books, the first covering seasons 1 and 2, the second covering season 3. In 2019 Spiteful Puppet and Chinbeard Books started publishing some new novelisations (described as 'Series 4') of the audio plays that ran from 2015 to 2018 plus some new original novels.



= In My Collection /

= Not in My Collection
Puffin Books

1984

Robin of Sherwood

1985

... and the Hounds of Lucifer

1986

The Hooded Man

1988

The Time of the Wolf
1990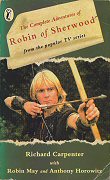 Omnibus of above four books
Puffin "Game Books"

1987

The King's Demon

1987

Thw Sword of the Templar
Spiteful Puppet & Chinbeard Books
Original Series
Sep 2019

Sanctuary

Jun 2019

The Meeting Place

Jul 2019

The Red Lord

?

What Was Lost

May 2020

The Power of Three

Jun 2020

To Have and To Hold

Mar 2021

Here Be Dragons

Aug 2021

The Waterford Boy

Oct 2021

Mathilda's Legacy
2020

Series 4 Collection (Paperback)

2021

Series 4 Collection (Hardback)

Omnibus of 'What Was Lost', 'The Power of Three' and 'To Have and To Hold' plus three new novels... 'Queen of the Black Sun', 'The Servant' and 'Knights of the Apocalypse'
2022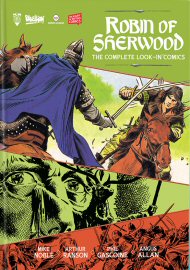 The Complete Look-In Comics
Amazon Reprint-on-Demand Versions
Larger than the original series
2021

Sanctuary

2021

The Meeting Place

2021

The Red Lord

2021

What Was Lost
2021

The Power of Three

2021

To Have and To Hold

2021

Here Be Dragons
Penguin Readers

2000

Robin Hood

2008

Robin Hood
Miwk Publishing Books
Revised Editions (Originals published 2014)

2016

Hooded Man Volume 1 : Robin of Loxley

2016

Hooded Man Volume 2 : Robert of Huntingdon
Robin of Sherwood Annual Gallery