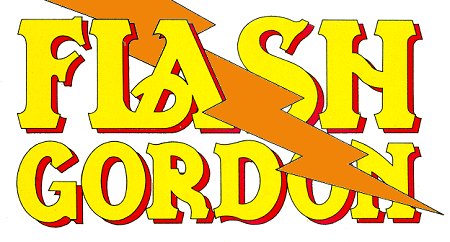 | | |
| --- | --- |
| Back to TV Sci Fi Books Index | Back to Home Page |
There have been several series of Flash Gordon books. The original novels by Alex Raymond were published by Star Books in the UK during the late 70s. In the US, two series of Flash Gordon books were published by Ace Tempo, the "Citadel" novels and a collection of comic strip books which were printed first in 1971 and then reprinted from 1979. There were also other paperback novels published by Tor and by Harper & Row, though I am not sure exactly how many - the gallery shows only the ones I have in my collection.

In 1980, there was a movie starring Sam Jones, and in addition to the novelisation of the movie, several of Alex Raymond's original books were reprinted showing Sam Jones on the cover (though unimaginatively using exactly the same pose as the novelisation book for all six reprints).

There were also two longer landscape comic strip books published in Australia by Budget Books.



= In My Collection /

= Not in My Collection
Novels
US - Avon Books
No 1 (1974)

The Lion Men of Mongo

No 2 (1974)

The Plague of Sound

No 3 (1974)

The Space Circus

No 4 (1974)

The Time Trap of Ming XIII

No 5 (1974)

The Witch Queen of Mongo

No 6 (1975)

The War of the Cybernauts
UK - Star Books
No 1 (1977)

The Lion Men of Mongo

No 2 (1977)

The Plague of Sound

No 3 (1977)

The Space Circus

No 4 (1977)

The Time Trap of Ming XIII

No 5 (1978)

The Witch Queen of Mongo

No 6 (1978)

The War of the Cybernauts
Movie Tie-in Cover Reprints
No 1

The Lion Men of Mongo

No 2

The Plague of Sound

No 3

The Space Circus

No 4

The Time Trap of Ming XIII

No 5

The Witch Queen of Mongo

No 6

The War of the Cybernauts
US - Ace Tempo Books
No 1 (1980)

Massacre in the 22nd Century

No 2 (1980)

War of the Citadels

No 3 (1980)

Crisis on Citadel II

No 4 (1981)

Forces From the Federation

No 5 (1981)

Citadels Under Attack

No 6 (1981)

Citadels on Earth
The Movie
UK (1980)

NEL Books

US (1980)

Jove Books
Comic Strip Books
US - Ace Tempo Books
| | | |
| --- | --- | --- |
| No 1 (1979) | No 2 (1979) | No 3 (1979) |
| No 4 (1980) | No 5 (1980) | No 6 (1980) |
US - Harper & Row Books
1976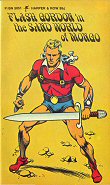 Flash Gordon in the Sand World of Mongo
US - Tor Books
1967

Flash Gordon on the Lost Continent of Mongo

1968

Flash Gordon : The Ice Monster

1982

Flash Gordon : Treachery on Mongo
Beaver Puzzle Books
No 1 (?)

Flash Gordon vs Ming the Merciless

No 2 (1979)

Flash Gordon vs Bloody Brazor and the Metal Men

No 3 (1980)

Flash Gordon vs King Vultan

No 4 (?)

Flash Gordon vs Linchu and the Lizard Women

No 5 (?)

Flash Gordon vs The Beast Men

No 6 (1981)

Flash Gordon vs The Incredible Kang
Australia - Budget Books
Kitchen Sink Press Books
1990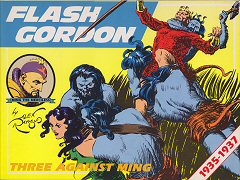 Vol 2 : Three Against Ming
Alex Raymond's Strips (1935 - 1937)
1992

Vol 1 : Austin Briggs' Dailies 1940 - 1942

1993

Vol 2 : Austin Briggs' Dailies 1940 - 1942
Dark Horse Comics
2003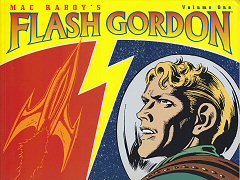 Mac Raboy's Flash Gordon Volume 1
World Distributors (World Adventure Library)
Comic Strip Paperbacks
From the World Distributors 'World Adventure Library' series
| | | |
| --- | --- | --- |
| No 1 (?) | No 2 (?) | No 3 (1967) |
| | | | |
| --- | --- | --- | --- |
| No 4 (1967) | No 5 (1967) | No 6 (1967) | No 7 (1967) |
Other Books
In My Collection
1981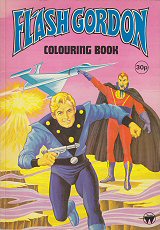 Colouring Book
World Books