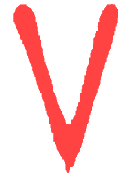 | | |
| --- | --- |
| Back to TV Sci Fi Books Index | Back to Home Page |
The "V" series books were reprinted in the UK by New English Library but only nine of the titles were released.
In the US there were 16 titles, the first eleven published by Pinnacle Books and the remaining five published by Tor Books.
As with many other TV Sci Fi shows, the US got more titles than the UK got.
UPDATE : In 2007 a new novel was published by Tor Books which was reprinted as a standard paperback in 2008. In 2009 the original
mini-series novel was republished with a new ending and the banner that 2009 will see a new TV series.



= In My Collection /

= Not in My Collection

UK - New English Library Books
1984

V

1985

East Coast Crisis

1985

The Pursuit of Diana

1985

The Chicago Conversion

1985

The Crivit Experiment

1986

The Florida Project

1986

Prisoners and Pawns

1986

The Alien Swordmaster

1987

The New England Resistance
US - Pinnacle Books
No 1 (1984)

V

No 2 (1984)

East Coast Crisis

No 3 (1984)

The Pursuit of Diana

No 4 (1985)

The Chicago Conversion
No 5 (1985)

The Florida Project

No 6 (1985)

Prisoners and Pawns

No 7 (1985)

The Alien Swordmaster
No 8 (1985)

The Crivit Experiment

No 9 (1985)

The New England Resistance

No 10 (1985)

Deathtide

No 11 (1985)

The Texas Run
US - Tor Books
No 12 (1987)

Path to Conquest

No 13 (1987)

To Conquer the Throne
No 14 (1988)

The Oregon Invasion

No 15 (1988)

Below the Threshold

No 16 (1988)

Symphony of Terror
2008

The Second Generation

2009

The Original Miniseries
Trade Size
2007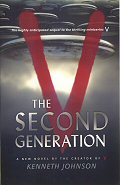 The Second Generation