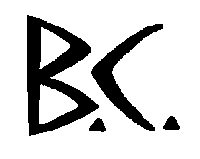 | | |
| --- | --- |
| Back to Comic Strips Index | Back to Home Page |
BC was the invention of Johnny Hart, a talented and much missed cartoonist. I am delighted however that the strip is being continued by his grandsons Mason and Mick Mastroianni and in 2012, a new book was published by Willow Creek Press. I hope there are more to follow.


Before the Fawcett Books, BC books were landscape. I have images of only four of them.
| | | | |
| --- | --- | --- | --- |
| | | | |
Below is a Gallery of the US Fawcett BC Books in the same order as they were reproduced in the UK. After the 27th shown below, all titles (backgrounded white) are unique to the US only.
This little hardback book was a greetings card book featuring Grog copyrighted as 1967, published by the American Greetings Corporation in Cleveland.
The Nineties saw a short revival of BC in these larger books published by Andrews and McMeel.
In 2007, the year that Johnny Hart died, Checker Books issued this celebration of 50 years of BC
In 2009 Thomas Nelson Books published this hardback collection of religious BC comic strips
In 2012 Willow Creek Press published this all-colour paperback collection by Mason and Mick Mastroianni, the grandsons of Johnny Hart.

75c


95c


$1.25


$1.75


$1.95

This was probably the silliest title of all - at every reprint, the title had to change ! It was the same with the UK versions ! I am interested in acquiring images of any other title (price) variations
Colour Variations
Many thanks to Vinnie Costa for image contribution

Reprints often tended to just change colour.
I believe there is a fourth colour for this book but not sure what it is.