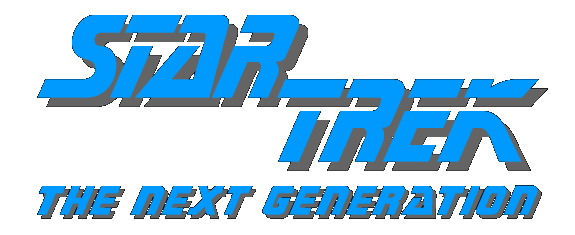 | | |
| --- | --- |
| Back to Star Trek Books Index | Back to Home Page |
Star Trek The Next Generation was the second Star Trek TV series which lasted for seven seasons from 1987 to 1994. Pocket Books published 63 numbered novels, and continue to publish un-numbered books to the current day. In the UK, Titan Books re-printed 28 of the numbered books and a few un-numbered books before they lost the licence and Pocket Books took over the UK market.

As there have been so many Star Trek The Next Generation books, this gallery has been split into two pages. This page features the US and UK numbered series. Page 2 features the un-numbered novels, the younger readers books, the Stargazer series and the (USS) Titan series.



= In My Collection /

= Not in My Collection
US - Pocket Books (Numbered Series)
No 1 (Jul 1988)

Ghost Ship

No 2 (Sep 1988)

The Peacekeepers

No 3 (Nov 1988)

Children of Hamlin
No 4 (Jan 1989)

Survivors

No 5 (Mar 1989)

Strike Zone

No 6 (May 1989)

Power Hungry

No 7 (Jul 1989)

Masks
No 8 (Sep 1989)

The Captain's Honor

No 9 (Nov 1989)

A Call to Darkness

No 10 (Jan 1990)

A Rock and a Hard Place
No 11 (May 1990)

Gulliver's Fugitives

No 12 (Jul 1990)

Doomsday World

No 13 (Sep 1990)

The Eyes of the Beholders

No 14 (Nov 1990)

Exiles
No 15 (Jan 1991)

Fortune's Light

No 16 (Mar 1991)

Contamination

No 17 (Jul 1991)

Boogeymen
No 18 (Oct 1991)

Q-in-Law

No 19 (Dec 1991)

Perchance to Dream

No 20 (Feb 1992)

Spartacus

No 21 (Apr 1992)

Chains of Command
No 22 (Jun 1992)

Imbalance

No 23 (Oct 1992)

War Drums

No 24 (Dec 1992)

Nightshade
No 25 (Mar 1993)

Grounded

No 26 (May 1993)

The Romulan Prize

No 27 (Sep 1993)

Guises of the Mind

No 28 (Dec 1993)

Here There Be Dragons
No 29 (Mar 1994)

Sins of Commission

No 30 (May 1994)

Debtor's Planet

No 31 (Aug 1994)

Foreign Foes
No 32 (Oct 1994)

Requiem

No 33 (Jan 1995)

Balance of Power

No 34 (Mar 1995)

Blaze of Glory

No 35 (May 1995)

The Romulan Stratagem
No 36 (Jul 1995)

Into the Nebula

No 37 (Oct 1995)

The Last Stand

No 38 (Jan 1996)

Dragon's Honor
No 39 (Mar 1996)

Rogue Saucer

No 40 (May 1996)

Possession

No 41 (Jul 1996)

Invasion : The Soldiers of Fear

No 42 (Sep 1996)

Infiltrator
No 43 (Nov 1996)

A Fury Scorned

No 44 (Jan 1997)

The Death of Princes

No 45 (Apr 1997)

Intellivore
No 46 (Dec 1997)

To Storm Heaven

No 47 (Aug 1998)

The Q Continuum 1 : Q-Space

No 48 (Aug 1998)

The Q Continuum 2 : Q-Zone

No 49 (Sep 1998)

The Q Continuum 3 : Q-Strike
No 50 (Apr 1999)

Dyson Sphere

No 51 (Jun 1999)

Double Helix 1 : Infection

No 52 (Jun 1999)

Double Helix 2 : Vectors
No 53 (Jul 1999)

Double Helix 3 : Red Sector

No 54 (Jul 1999)

Double Helix 4 : Quarantine

No 55 (Aug 1999)

Double Helix 5 : Double or Nothing

No 56 (Aug 1999)

Double Helix 6 : First Virtue
No 57 (Sep 1999)

The Forgotten War

No 58 (Feb 2000)

Gemworld Book 1

No 59 (Feb 2000)

Gemworld Book 2
No 60 (Feb 2001)

Tooth and Claw

No 61 (Feb 2001)

Diplomatic Implausibility

No 62 (Mar 2001)

Maximum Warp Book 1

No 63 (Mar 2001)

Maximum Warp Book 2
Trade Size Compendium of Nos 51 - 56
2002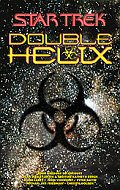 Double Helix
UK - Titan Books (Numbered Series)
No 1 (Jul 1988)

Ghost Ship

No 2 (Sep 1988)

The Peacekeepers

No 3 (Nov 1988)

The Children of Hamlin
No 4 (Jan 1989)

Survivors

No 5 (Mar 1989)

Strike Zone

No 6 (May 1989)

Power Hungry

No 7 (Jul 1989)

Masks
No 8 (Sep 1989)

The Captain's Honour

No 9 (Nov 1989)

A Call to Darkness

No 10 (Jan 1990)

A Rock and a Hard Place
No 11 (May 1990)

Gulliver's Fugitives

No 12 (Jul 1990)

Doomsday World

No 13 (Sep 1990)

The Eyes of the Beholders

No 14 (Nov 1990)

Exiles
No 15 (Jan 1991)

Fortune's Light

No 16 (Mar 1991)

Contamination

No 17 (Jul 1991)

Boogeymen
No 18 (Oct 1991)

Q-in-Law

No 19 (Dec 1991)

Perchance to Dream

No 20 (Feb 1992)

Spartacus

No 21 (Apr 1992)

Chains of Command
No 22 (Jun 1992)

Imbalance

No 23 (Oct 1992)

War Drums

No 24 (Dec 1992)

Nightshade
No 25 (Mar 1993)

Grounded

No 26 (May 1993)

The Romulan Prize

No 27 (Sep 1993)

Guises of the Mind

No 28 (Dec 1993)

Here There Be Dragons