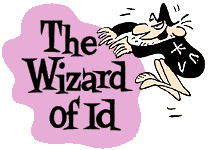 | | |
| --- | --- |
| Back to Comic Strips Index | Back to Home Page |
The Wizard of Id books in the UK were reproduced from the American editions by Coronet Books.

These books were issued as a numbered series, but unfortunately, like with BC books, Coronet Books were not very clever when assigning the number to the next book released... with this series they totally lost the plot ! The 11th book was numbered 12 (so there was no No 11) and they did not notice their mistake for three issues ! Consequently, No 12 was numbered 13, No 13 was numbered 14 and they finally noticed and numbered No 14 as 14 (making two No 14s) ! This was really frustrating to us collectors ! To make matters worse, they did it again...! No 21 was numbered 20 (so there were two No 20s) and No 22 (the final one) was numbered 21. Sadly, Coronet Books disappeared towards the end of the Eighties, and No 22 was the last to be published.

A series of two "Wizard of Id in Colour" Books were issued by Ravette in the early 90's. Inside these was the promise of two further titles, "Tricks and Treats"and "The Gold Plated Farce", but Ravette have confirmed these were never actually published.

Below is a Gallery of the UK Wizard of Id Books in number (!!) order.



= In My Collection /

= Not in My Collection

Coronet Books


No 1 (1972)

The King is a Fink!

No 2 (1972)

The Wondrous Wizard of Id

No 3 (1972)

The Peasants Are Revolting!

No 4 (1973)

Remember the Golden Rule
No 5 (1974)

There's a Fly in My Swill!

No 6 (1975)

The Wizard's back

No 7 (1975)

Long Live the King!
No 8 (1976)

The Wizard of Id - Yield

No 9 (1977)

Frammin at the Jim-Jam Frippin in the Krotz!

No 10 (1977)

Every Man is Innocent Until Proven Broke

No 11 (1978)

I'm Off to See the Wizard

No 12 (1978)

Let There Be Reign

No 13 (1979)

Help Stamp Out Grapes

No 14 (1980)

The Wizard of Id Charge!

No 15 (1981)

We've Got to Stop Meeting Like This!
No 16 (1981)

Ala Ka Zot!

No 17 (1982)

Well This is Another Fine How Do You Do

No 18 (1984)>

The Lone Haranguer Rides Again
No 19 (1985)

Abra Cadaver!

No 20 (1985)

My Kingdom For a Horsie!

No 21 (1986)

Suspended Sentence Indeed

No 22 (1987)

I Dig Freedom
Ravette Books
"Wizard of Id in Colour" series

No 1 (1991)

Kingdom of Mystery

No 2 (1991)

The Spell is Cast
Titan Books
Hardback

2009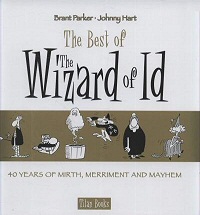 The Best of the Wizard of Id
2011

1971 Daily & Sunday Strips

2012

1972 Daily & Sunday Strips

2013

1973 Daily & Sunday Strips