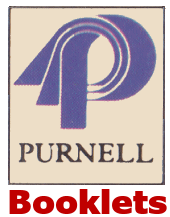 Purnell were prolific publishers of children's books and created several 'series' of books across a few children's television shows and Disney films. One such series was the 'booklet' series, comprising of small paperback books (12 x 18 cm) stapled at the spine and ranging from 16 to 32 pages.

This gallery highlights those I know about or are in my collection and are featured in other galleries on my site. The gallery below, which is intended as an aid to collectors of Purnell booklets, is in series alphabetical order. If anyone knows of any titles or series I've missed, please email me.



= In My Collection /

= Not in My Collection
CHILDREN'S TV SERIES
Roobarb Books Gallery / Rod Hull & Emu Books Gallery / The Flumps Books Gallery / Andy Pandy Books Gallery
1977

Roobarb: When There was a TV Show

1977

Rod Hull's Emu On His Own

1977

Noah and Nelly in SkylArk: During a Short Cut

1977

The Flumps: Secrets

1977

Rod Hull's Emu On Holiday

1977

Basil Brush of the Yard

1977

Andy Pandy's Tree-House

1977

Bod and the Tiger
Lets... Series
1976

Let's Play!

1976

Let's Go!

1976

Let's Think!

1976

Let's Guess!

1976

Let's Work It Out!

1976

Let's Play a Game!

?

Let's Find Out!

1976

Let's Have Fun!
Disney Series 1
1976

Donald's Clock

1976

Scamp and the Bone

1976

The Toy Aeroplane

1976

The Time Machine

1976

The Play

1976

Chip n' Dale Fall in Love

1976

Pluto Goes Hunting

1976

Goofy the Demolition Expert
Disney Series 2
1978

101 Dalmatians

1978

Dumbo Learns to Fly

1978

Chip 'n' Dale and the Treasure Map

1978

Pinocchio

1978

Goofy the Signwriter

1978

Pluto and the Piglet

1978

Huey, Dewey and Louie

1978

Pooh's Honey Adventure
Disney Series 3
1983

Bambi

1983

Jungle Book

1983

Peter Pan

1983

Lady and the Tramp

1983

Pete's Dragon

1983

Snow White

1983

Sleeping Beauty

1983

Winnie the Pooh Meets Tigger


Magic Roundabout Books Gallery
1985

Brian and the Space Men

1985

Dylan's Special Present

1985

Dougal's Magic Lamp

1985

Ermintrude the Beautiful
1985

Noddy and the Naughty Boy

1985

Noddy and the Snow House

1985

Noddy Tricks Mr Sly

1985

Noddy and the Honey
1985

Rupert and the Princess

1985

Rupert the Knight and the Lady

1985

Rupert and Bill Badger's Picnic Party

1985

Rupert at the Seaside
1985

Sooty's Sweet Shop

1985

Sooty the Sailor

1985

Sooty the Artist

1985

Sooty the Babysitter